CRUDE OIL STORAGE TANK CLEANING
According to standard data cleaning for Crude oil sludge that consists of 67% Oil, 25% Solids, and 8% Water. This thick substance collects at the bottom of oil tanks in refineries and tank farms, and causes several issues, including discharge line blockages and reduced storage capacity. Regular oil tank cleaning and sludge removal are necessary to maximize storage capacity and prevent blockages and accelerated corrosion. Each cleaning helps you effectively remove sludge and other oil contaminants, such as:
Water
Sand and Dirt
Salts and Scale
Waxes
Asphaltene and Inorganic Substances
Decontamination & Recovery Using Our Tank Farm & Refinery Tank Cleaning Technique
Using the right products and practices for crude oil tank cleaning is essential not only for effectiveness but to minimize the loss of valuable hydrocarbon fluids. Clean your crude oil tanks effectively using our JPX Crude Oil Storage Tank Cleaning Procedure. This tank farm & refinery tank cleaning procedure helps to recover as much oil as possible without significant solids contamination. The hydrocarbon fluids can then be economically processed as crude unit feed rather than a slop stream, which can be a refinery bottleneck. 
Why Clean Oil Storage Tanks?
Repair Leaks
Recover Storage Capacity
Eliminate Crude Unit Upsets
Floating Roof Seal Replacement
Coat the Floor
Inspection
JUDAYE Company ensure to carry out the following cleaning services: –
Erection of external scaffolding for spading and manway opening
Supply and installation of required Spade as per DNO spade list.
Open both man ways, collection of samples at the bottom and empties the Vessel.
Supply and installation of exhaust fan / Venturi on the top of vessel for ventilation.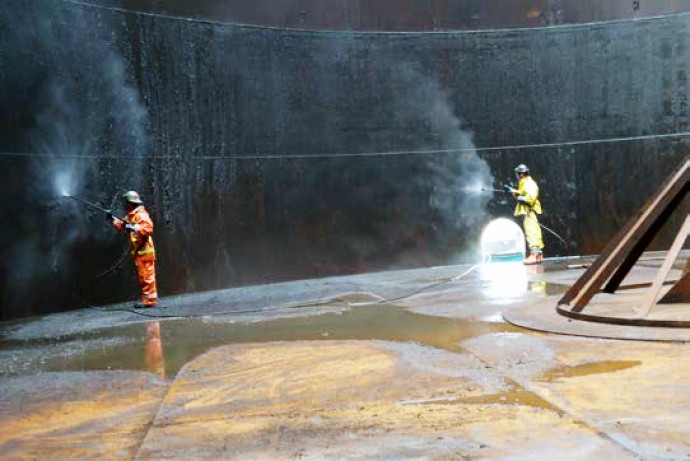 Supply and installation of necessary lighting arrangement (D.C Portable lights /Flood lights – Flame proof) inside the vessel during cleaning and inspection process.
Perform thorough internal cleaning of shell, dish ends, three layers of grids, grid supports, insulators, sand jet system and internal piping with fire water, liquid soap, suitable cleaning agent and high pressure washing.
Open the sand pan arrangement, clean and reinstall after inspection. • Provision of internal access for inspection on shell and heads.
Box up man ways after internal inspection.